Last week I hosted The Big Yak with my fellow IC Crowd co-founders Rachel Miller and Dana Leeson.
It was our fourth event and our biggest one yet with 160 internal communication professionals gathered together on a Saturday to set the agenda for the day ahead. These were the topics they chose to discuss and you can see that remote workers, leadership coaching and developing our own skills were all high on the agenda.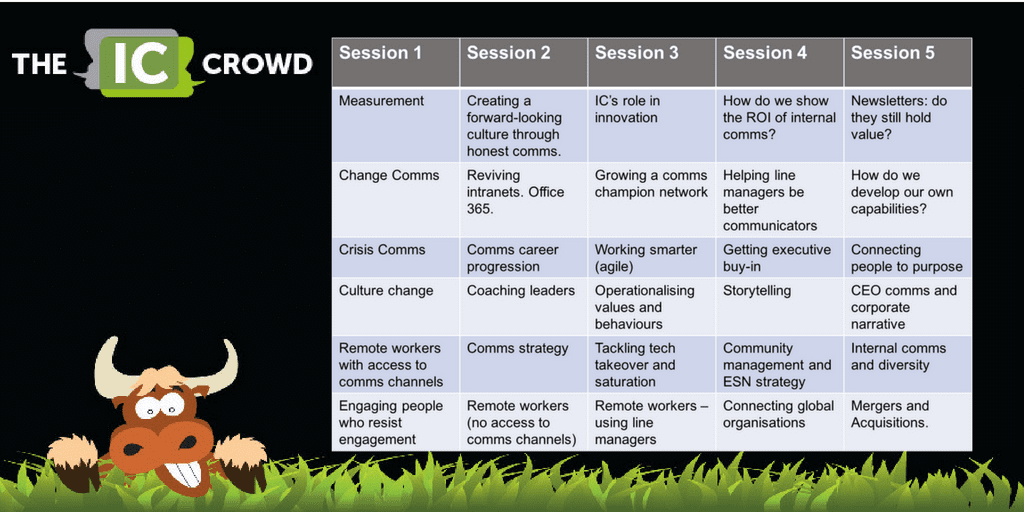 I managed to sit in a few of the conversations so here are my thoughts from the event:
We are forgetting we are human beings
Every conversation I have at the moment seems to be about this. About our need to feel connected to each other or the organisation we work for. The rise of digital channels means our investment has been in the technology not the people and there is growing recognition that this needs to change. We know that the investment in internal communication is often minimal but there was strong agreement in the discussions about remote workers (either physically remote or completely remote without access to technology etc.) and the need to invest in face-to-face.
Remote workers remain a huge challenge
With two sessions talking about remote workers it was no wonder that the conversations were lively and encouraging. Lessons were shared about launching apps, creating culture and purpose and also the role of the line managers. There was no one in the room who had totally 'solved' this challenge but the need to learn from each other here is huge. It's the reason I'm doing research into this space this year and it's clear to see why the hard to reach employee is on the top five barriers list from the Gatehouse research earlier this year.
Content is not just about the operation
We seem to have forgotten that content doesn't always have to be about the work that needs to be done. There was a general consensus that fun was missing. The need for content that supports the culture, the social aspect of work and the relationships we try and cultivate was clear and it made me think about how many of us have a content strategy that sits alongside our channel strategy.
Neuroscience, psychology and digital
This is a big theme and it was apparent in several sessions I attended. Work is not somewhere we go, it's something we do and our fulfilment of the work has never been higher on our personal agendas. Digital tools are unfulfilling, they don't support the messages being communicated and they aren't fit for purpose. We are all being asked to do more with less – what can that look like if the solution isn't more digital channels?
Being a co-founder of the IC Crowd is so rewarding. We set it up to help internal communication professionals connect and The Big Yak was born out of the Crowd asking to get together. It is a day full of energy, discussion and insight and it would be nothing without passionate individuals willing to give up their Saturday to talk about how they can make work a better place. It is something I'm so incredibly proud of and it's given me the chance to work with two fantastic ladies for over 10 years! You can find out more about The Big Yak and read other write ups from the event here.