Communicating effectively in a matrix structure is always going to be complex and challenging. A matrix structure is where someone reports to multiple people. This can sometimes happen in larger organisations where the internal communication manager reports to HR and also corporate communications.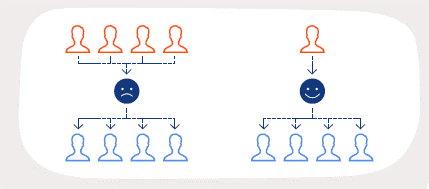 In our Line of Sight research that we did with line managers, we established that working in a matrix organisation – where they have more than one manager – has an impact on happiness. When a line manager reports to matrix management they are not as happy or as engaged as those who report to one person. This is important as it tells us more about the true middle managers inside organisations – those who sit between layers of leadership. We can speculate the reasons for this and would encourage anyone who operates with matrix management structures to delve further into conversations around the impact it has on individuals.
For effective communication to happen in matrix organisations, we need deep clarity in terms of roles and responsibilities. I recommend using the RASCI model; it's a tool I always come back to where there's some confusion or complex organisational structures.
The components of RASCI are shown below. I use a table to work through this and it's all about understanding who's in which box.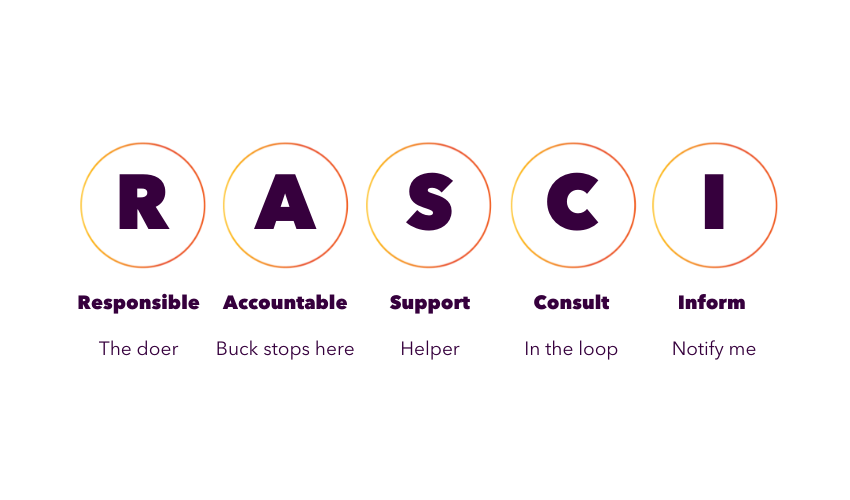 The reason this is effective in a matrix organisation is that in the responsible column and in the accountable column, you can only have one person. You can't have multiple people responsible for something and you can't have multiple people accountable for something. If everybody is doing it, nobody is doing it! They can be different names obviously, but you can only have one name in there.
When you get into the columns of who's supporting, who you need to consult, or who needs to be kept informed, you can have several names in those three. Completing this exercise in a matrix organisation will really help in terms of effective communication.
Now, if you're looking at effective communication as a function in the matrix organisation, you can bring that RASCI model into your team too. You can look at your projects or the things you're working on and then apply a RASCI to those things as well so that you're very clear in terms of who's responsible and accountable for different elements of communication. It's also important to have foundations in place around a channel matrix where you're very clear on the content and the purpose of that channel and the primary and secondary audience of that channel.
To communicate well within matrix organisations, it's about having processes and structures in place for the communications function. This will really help make sure that things are effective and relevant to the different audiences.
As part of our Reality check research into the issues and chaos affecting their organisations and teams, we gave respondents the opportunity to ask us anything. This was a question posed by one of the respondents, which I answered personally. We will be sharing more of these throughout the year. If you have any further questions on the topic of communicating effectively in a matrix organisation, please get in touch.